Why UMaine is losing at Facebook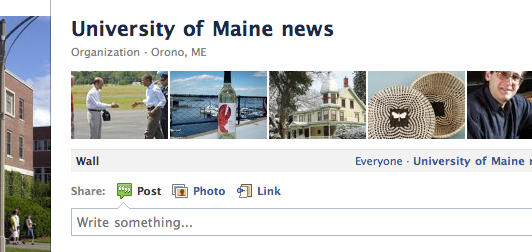 I have been attending the University of Maine at Orono for the past 6 months and I absolutely love it. It's great being close to home (20 minutes), and learning in an relaxed environment (I went to college in Boston last year). One thing I have noticed is that UMaine is failing with its Facebook outreach. They have many different Facebook pages, each with the intention of delivering relevant content to users, yet there are major problems. Let's compare UMaine with other comparable schools (BU, BC, Northeastern), and see what we can find.
Facebook Reach
It appears that UMaine has many Facebook pages, but they have two primary accounts being used to broadcast general information from the administration.
University of Maine news
The primary goal of University of Maine news (obviously) is to update alumni, current students, and prospective students about the latest news going on at UMaine. This page has 1,682 fans (as of Feb 28th). Currently, this page serves to rebroadcast information posted to the UMaine News twitter page, so no NEW content or engagements are happening on this page.
University of Maine Admissions
For those interested in attending UMaine, the University of Maine Admissions Facebook page provides information regarding application due dates, FAFSA, and other interesting admissions stories. This page has 1,088 fans connected.
Why UMaine is Failing
UMaine is on par with many other schools when it comes to an admissions page, yet lacks a key, important, and vital Facebook page that other schools have. It's extremely simple, UMaine does not have control of the University of Maine – Orono page, which contains over 6,000 fans. This appears to be a page created by an "average Joe" which is not necessarily a bad thing, yet news is not being broadcast on this page, leaving people disconnected from the university. This page is the face of UMaine, whether administration agrees with me or not. To further prove my point, people are STILL interacting with this page, posting information about events happening, videos, and much more.
Comparison with BC, BU, and Northeastern
Upon researching the number of alumni from each school who are on Facebook, we learn that Maine has the fewest number of alumni (45,380) compared to Boston University with the highest number (125,660).
Naturally, UMaine should have fewer fans connected than other schools, yet let's look at the reach of UMaine administration (Public Relations), and measure it in percentages. I have created a simple formula to determine the measure of reach for each school's administration.
[framed_box]#** of Fans/# of Alumni on Facebook = Reach %**[/framed_box]
Boston University
29,521/125,660 = **23.49% Reach **
**Northeastern University **
11,907/84,240 = 14.13% Reach
Boston College
23,807/71,650 = 33.22% Reach
**University of Maine **
Considering the fact that UMaine administration does NOT have control of the 6,000 fan University of Maine – Orono Facebook page, I am going to add together the pages that ARE controlled by UMaine administration (My goal is to measure the reach of administration).
2,770/45,380 = 6.10 % Reach
Technology is transforming the way we communicate with each other, I believe that if UMaine does not start reaching out (especially on Facebook, with its 600 million users), then prospective students will choose other schools over UMaine, and alumni will donate less to their alma mater, simply because they are not updated. Stay posted – I will be conducting more research as I meet with administration and learn more. If you have enjoyed this article, please "like" it below – I would appreciate it!