The Anywhere Operating System
The Anywhere OS is your user manual for working from anywhere.
COVID-19 changed the way we work. Are you ready for what's next? The Anywhere Operating System is your how-to guide to navigate this tectonic shift.
👉
"For decades, leaders have relied on the office to paper over cultural cracks while allowing distractions to destroy productivity. In reaction to that, a new type of organization is emerging: asynchronous-first. Luke has emerged as a leader in this new world, not just imagining how these organizations can work, but creating the tools and frameworks that enable it." - Chris Herd, Co-Founder/CEO @ FirstBase
Work has changed, has your business changed with it?
We've created a hands-on user manual on how to run your business from anywhere. If you read this book, we promise you will save years of trial and error.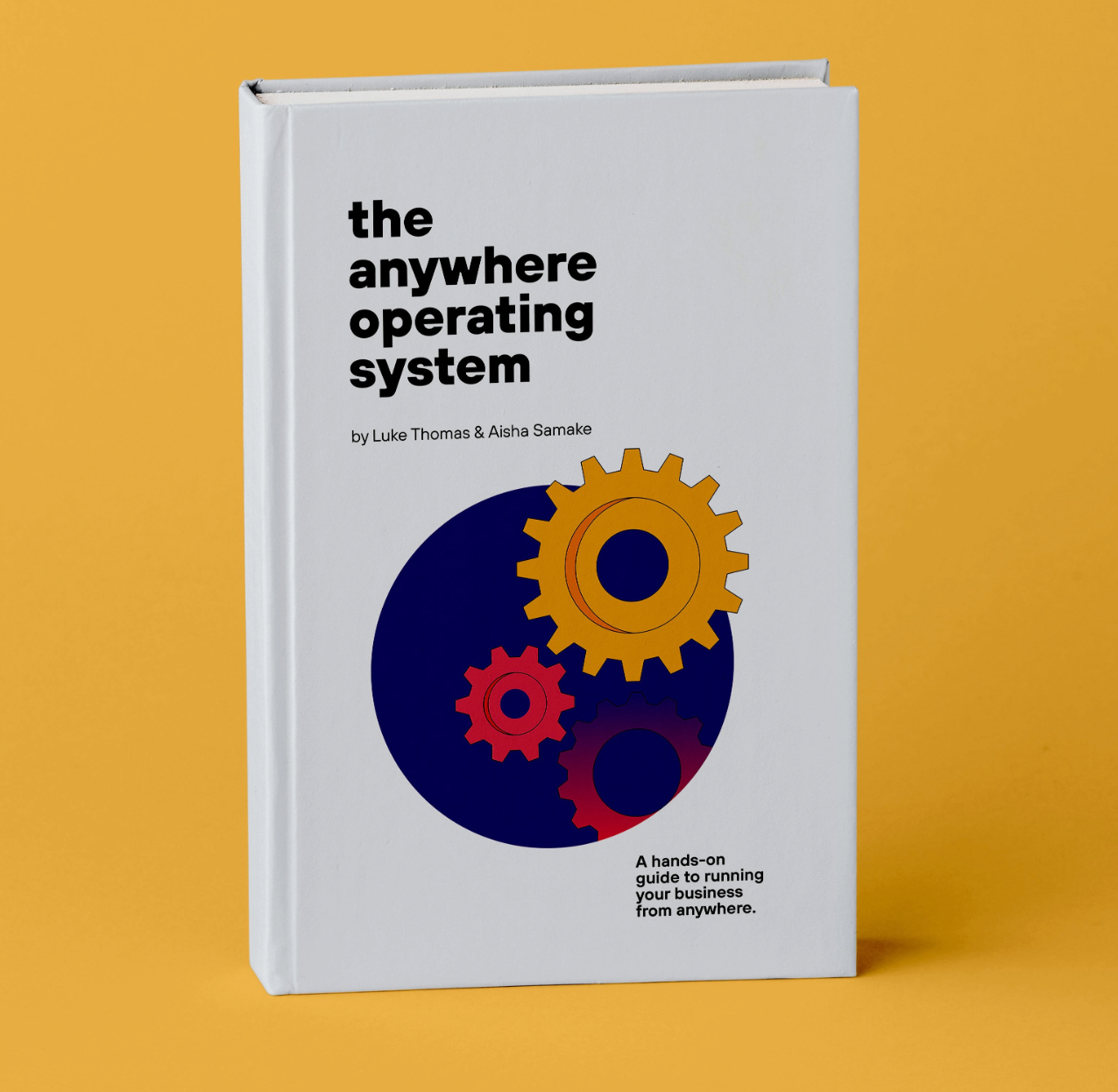 👉
"This guide escapes the canopy of theoretical and delivers actionable intel to create and evolve a remote-first work environment. In a post-office world where flexibility is globally demanded, leaders will appreciate the no-nonsense approach to leveraging remote for the competitive advantage it is." - Darren Murph, Head of Remote @ Gitlab
About the Authors
So who wrote this book again?
Luke Thomas
Luke is the former founder/CEO of Friday. He's worked remotely for almost a decade as an individual contributor, team lead, and a CEO. He grew up in Downeast, Maine.
Aisha Samake
Aisha is a student and is new to working remotely. She was an intern @ Friday and will share an employee's perspective on working remotely.
Want to start reading?
Well, here ya go!
Part #1: Principles
In the first section, we'll outline the history of the office, unpack if remote work is a fad (or not), show you how to cut your internal staff meetings in half, and much more.
Why write a book about working from anywhere?
What if the office is the new invention?
Is working from anywhere a fad?
The office vs. remote
The open secret that's hiding in plain sight
The #1 ingredient of working from anywhere
That meeting should have been an email
Part #2: Tactics
In this section, we'll get into the nitty gritty. Learn how to build a company handbook, stay accountability, keep in sync, run meetups, hire, and onboard new team members.
How to go async first
How to create a company handbook
How to cut your internal meetings in half
How to build company culture
How to feel connected to your team
How to create accountability from afar
How to build trusted working relationships
How to stay aligned
How to hold company meetups
How to hire from anywhere
How to onboard a new hire remotely
How to lead a team
What about hybrid work?
How to stay productive & avoid burning out
12 Mental Models for success
Tools for the journey
👉
"Remote work equips workers with the autonomy and flexibility to do their best work regardless of where they're located. However, building a remote team takes intention and can be difficult to get right. Luke is among the most thoughtful and experienced leaders, and he's full of actionable advice for how to successfully build and scale a remote-first team." - Mike Knoop, Co-Founder/President @ Zapier