Startup Business Resources in Maine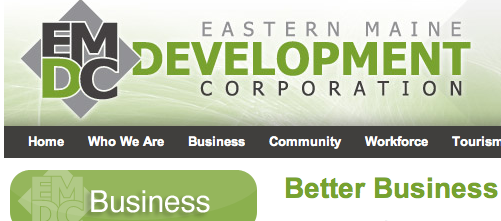 Over the past few years I have had the exciting opportunity to work with a few startup businesses in Maine. Frequently, they contact me in need of a website, yet they are unaware of the many organizations that are willing to help them on anything from business plan development, to venture capital funding. Many of these organizations offer low price workshops, which can be very instrumental in the overall success of the startup. Personally, I haven't taken advantage of as many of the events as much I would like to, yet I think it's very important to spread the word about the opportunities in my "backyard."
Bangor Area Resources
The Target Technology Center, located in Orono, provides information technology resources to startup businesses. In short, the Target Tech center allows you to run your business at a lower cost, because they provide space and essential services that startups need in order to grow.
EMDC, located in Downtown Bangor, offers a variety of services that startup businesses in Eastern Maine should take advantage of. They also have some great initiatives like Mobilize Maine and the Summer Youth Employment Program.
Through the Innovation Enterprise Program, Eaton Peabody offers legal services to Maine-based startups with expansion potential. Visit their website to apply.
4. Foster Center for Student Innovation
As a current student at UMaine, I have the awesome opportunity to visit the Foster Center for Innovation on a weekly basis. The center offers workshops, as well as being the home base for the Innovation Engineering Minor. This center is a must-see for anyone involved in innovation or startups.
class="size-full wp-image-304 aligncenter" title="Foster Student Innovation Center" src="http://lukethomasmedia.com/wp-content/uploads/2011/03/Foster_Student_Innovation_Center.jpg" alt="Foster Student Innovation Center" width="440″ height="293″ />
Portland/Augusta Area
As a disclaimer, I am much more familiar with the Bangor area, so please excuse me if I missed a few Southern Maine resources..
1. Coastal Enterprises Inc.
Coastal Enterprises Inc. is an non-profit community development corporation, which specializes in rural business development and financing. They are located in Wiscasset and offer a variety of programs, including social investing.
The Maine International Trade Center, with offices in Portland and Bangor, offers consulting services to businesses considering entering international markets.
With numerous locations statewide, Maine Small Business Development Centers has a very simple mission – create and save jobs in Maine. They also have frequent seminars, so they are definitely worth checking out!
Similar to the Target Technology Center, the Maine Center for Enterprise Development, located in Portland, offers 4,500 square feet of  incubation space. They also have a Top Gun Entrepreneur Program worth learning about.
In Need of Funding?
SEGF invests in startups with promising growth, yet they require a co-investment of at least equal to what they will fund. In other words, entrepreneurs must be serious about their product or service and willing to invest money from their personal stash of cash.
Run by the good old state of Maine, the Maine Technology Institute funds projects in various sectors such as: Biotechnology, Advanced Composites, Forest Products, and Information Technology. They also invest some serious amounts of cash too.
Additional Reading
If you enjoyed my article, please feel to click the "like" button below!