Nine Reasons why I Love Being Self-Employed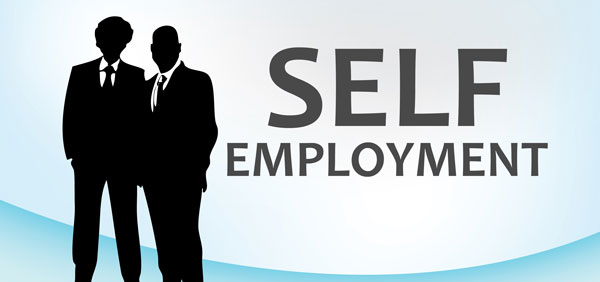 Many college students my age are beginning to consider what life in the work force will be like; for some, it is an exciting opportunity, yet many find it to be scary (after all, who wants to work the typical 9-5 job after partying for 4 years straight?).
Fortunately, I have had the opportunity to work with many businesses – I am self – employed, and it has many benefits and perks. Although I am unsure what I will do regarding employment after graduation, I will explain why I love designing websites, creating/implementing social media campaigns, and marketing – all while working for myself!
1. Workday Flexibility
As a student who was accustomed to the life of homeschooling, having complete control over one's workday is by far the most beneficial piece of working for myself. It's a great feeling being able to stop work and instead going to visit a friend or family member. It is my firm belief that work shouldn't control one's life, and being self-employed offers unparalleled flexibility.
Recent advances in technology also allow efficient communication between myself and  clients. Programs like Skype and Google Voice allow me to communicate anywhere, as long as I have an internet connection and my Macbook. This enables me to pursue activities and events that I enjoy, without living in fear of my job.
2. Constant Change
Technology is changing at rapid pace. Facebook has over 600 million users, after only 7 years of existence! The internet is less than 20 years old, yet its impact is seen on a daily basis.
Staying up-to-date on these changes is a crucial piece of my job – I am constantly scanning sites like Mashable, Tech Crunch, VentureBeat, and Entrepreneur, trying to find ways that I can use technology to my advantage. Many businesses cannot afford to stay updated on the latest changes, which is where I can be of assistance. I also dedicate time reading the latest books on social media, website design, and marketing strategy. I am a firm believer in *"Working Smarter, Not Harder." *
3. Opportunity for Innovation and Creativity
Being self-employed allows me to constantly re-invent the work that I do. The power of the internet allows me to find quicker ways to set up social media campaigns, more effective ways to design websites, and broader reach with marketing resources. I can also integrate products and services, which allows me to work less, and accomplish more.
As I mentioned in a previous article, I am a right-brained thinker, which means I tend to be more creative and emotional than most people. Self-employment offers the unique ability to work in a way where I am comfortable – an environment that I enjoy! It also offers me the opportunity to use my "creative juices" and implement my outlandish ideas into daily work. I believe this a major reason why I enjoy my job – I can be creative, and get paid for it!
4. Complete Control
When I was a high school student, I began designing websites. As my job progressed, I began to dabble in graphic design, eventually leading to social media, and video shooting and editing. I enjoy all these activities, yet it would be very difficult to pursue other activities if I was working a desk-job. The typical job entails specific activities, and little room for variance (if you would like an example, take a look at a recent job opening post). My parents always taught me that I should pursue various learning opportunities, and eventually I will find something I love. It turns out, I found the job that I love, yet I have found many other enjoyable work opportunities as a result of being self-employed.
5. Networking Opportunities
Self-employment offers constant networking opportunities. As a result of word-of-mouth referrals, I am always meetingpeople who need assistance with a Facebook business page, or bringing life back to an old website. Thankfully, the Bangor, Maine area offers many events geared towards small businesses. Organizations like Fusion Bangor, Eastern Maine Development Corporation, and the Foster Center for Student Innovation are constantly striving to educate self-employed business owners on establishing a social media presence, managing taxes, fundraising and patents.
6. New Client Acquisition
Periodically, I have the opportunity to meet with prospective clients and explain my services. I view it as a friendly challenge – *"How can I convince them to hire me?" * I must adapt and react to the needs of the client, and must provide solutions to their problems. Many students my age are out partying at the local frat house – I believe I experience the same "high" they do when I gain a new project! It is a great feeling knowing that my talents are in demand, and that businesses give me the opportunity to work with them.
7. Measuring Return on Investment (ROI)
I believe that the work I do must have a positive return. When I work for a client, I am focused on provided the maximum return on the company's investment. This enables me to prove that I am worth my hire – I love seeing the work I do pay off, whether it be an increase in Facebook fans, website views, or leads. Positive ROI also increases the likelihood that I will be hired for future projects – retaining clients is more important to me than gaining new ones. Recently, I doubled traffic to a client's website, take a look below!
8. "Personal Brand" Growth
For anyone unfamiliar with personal branding, it is the process that entrepreneurs and self-employed individuals differentiate themselves from their competition. Part of the reason why I blog is due to the fact that I am constantly striving to gain an advantage over local businesses. It is great seeing people are sharing the articles I write on Twitter, Facebook, and other blogs. Many of these people have been in business for years, and have much more experience than I – but once again, I view this as a friendly challenge. It is great to meet people who have heard about the work I do, or read my blog posts. It will be exciting to see how my "personal brand" grows over the next few years. I am building a business!
Maine-Based
Sometimes I wonder why I love living in a place where winter dominates the seasons. Maine does not have much to offer young people, yet I love meeting local business owners. I feel an obligation to help people who live in the same area as I. After being in Boston for a year, I knew that if I could implement the things I learned, I had a chance to build my business. Thankfully, business owners have been receptive and I have picked up many clients, especially in the area of social media. I hope that after I graduate, I will have the opportunity to continue helping my "neighbors." Maine is like a small town, and word travels fast. It can be a valuable asset, or destroy work opportunities.
Conclusion: Being self-employed isn't always fun and exciting. It can be difficult, yet I love the work I do, and want to continue as long as I can!