How Maine Businesses can use Inbound Marketing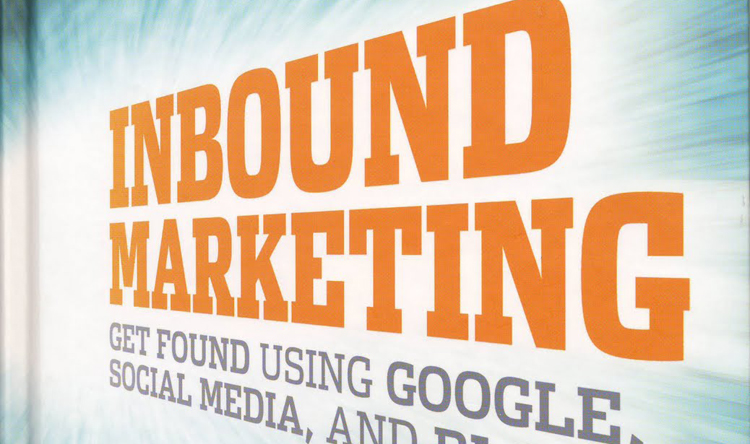 It's been nearly two weeks since Hubspot set the World Record for the largest online marketing seminar with 31,000 registrants, and Inbound Marketing has exploded. A few months ago, I had the exciting opportunity to check out Hubspot HQ in Cambridge, and the atmosphere was electrifying. Salesforce, Google Ventures, and Sequoia Capital had recently infused them with a hefty investment of $32 million. The whole business model of Hubspot is focused around Inbound Marketing, which leverages social media, search engine optimization, and blogging to deliver value. As someone who started blogging at the beginning of the year, 90% of my clients have been generated through my blog articles. I have seen the value of inbound marketing, and it's enormous potential is something that Maine businesses cannot ignore.
Step 1: Create Exceptional Content
The internet contains over 15 billion pages, how can your small businesses get found online? It's simple, setup a WordPress blog, hire a designer to create a custom design, and start creating posts. I've seen many individuals and brands setup a blog hosted with WordPress (yourname.wordpress.com). DON'T DO THIS – instead purchase a domain name (.com). Your website will be the focal point of your marketing effort, you must make it unique. If you already have a website, add the blog to the /blog directory.
**How do I create exceptional content? **
Create a strategy (What are you passionate about? What keeps you awake at night?)
Think of 50 blog post ideas (Gary Vaynerchuk says if you can think of 50 blog post topics, you should begin blogging)
Start Blogging!
Keep Blogging!
I am a firm believer that you should only blog when you have something exceptional to tell the world. I can't stand reading lackluster blog posts by someone who is blogging for the sake of blogging. "If you don't have anything good to say, don't say it at all."
I have never been a great writer, yet over the past year blogging has allowed me to develop my writing skills, and it's exciting to see the progression from my first post, to this one! I'm confident the same will happen for you too – just keep working at it.
Blogging needs to be viewed as an investment – I looked at my website analytics this morning, and a blog post I created in January has the most views today. Inbound marketing builds post after post, compared to advertising which leaves businesses in the same position when they started. This is a key shift from traditional outbound marketing** and Maine businesses need to take advantage.**
Step 2: Focus on Long-Tail Keywords
If you are a small business, stop trying to rank high for keywords like "Plumbing Service" or "Marketing Agency." Millions of other companies are competing with you. Instead focus on Long-Tail keywords, there's less competition for "Plumbing Service in Maine" or "Marketing Agency in Maine." Structure blog posts around these keywords, if you can provide value, you've successfully established your credibility, and the reader is more likely to engage with you!
How do I know if someone is searching for certain keywords?
This is a very good question! Typically I use the Google Adwords Keyword Tool, it allows me to filter by geographic location, so then I can see if  locals are searching for specific content. In my situation, I could work for someone in Belgium, from the comfort of my home in Bangor, Maine. *If you business is restricted to a certain geographical location, make sure you are including your location into the long-tail keyword. *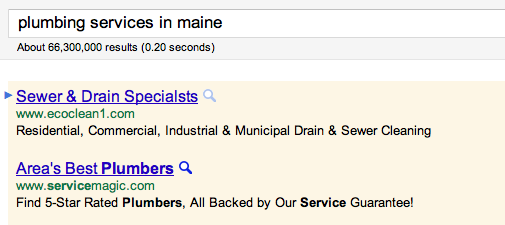 Step 3: Offer Incentives
Inbound Marketing is centered around converting passive visitors to leads. How is this accomplished? As a business, you must offer an incentive, encourage people to "like" your fanpage, or offer a white paper on a topic you are passionate about. Provide value, yet make them "un-lockable."
If you think people will willingly give you their email address, phone number, and mailing address, you are mistaken. Consumers are savvy, they want something in return. For example, if you are a restaurant in Brewer, Maine, offer a $10 dollar gift certificate with a purchase of $30 dollars or more. Business is a give-and-take relationship between buyers and sellers, make sure you are doing your part.
Step 4: Design to Funnel
If your contact form or call to action is buried deep within your website, don't expect leads. Design your website to funnel visitors, your call to action should be on the homepage of your website. If you need assistance, hire a designer. If you notice at the bottom of this page, I have included a call-to-action. Personalize each call-to-action for every page you write.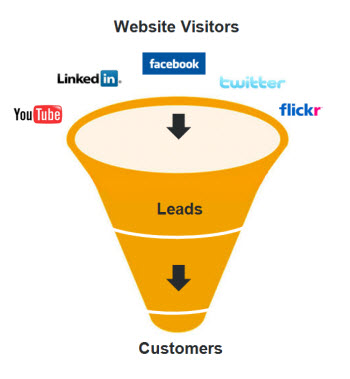 Step 5: Promote with Social Media
The power of social media revolves around the delivery of content. In the past, viewers had no idea when content was updated or news was added to the website. Now, social media gives businesses the opportunity to deliver content to viewers in a place where they frequently visit (Facebook, Twitter). It's a complete shift, and you need to take advantage of it.
Social Media is also great for feedback – ask readers what they thought of the article, and encourage them to weigh in on the conversation.
Step 6: Measure Progress
The most exciting part about Inbound Marketing is watching your website visits grow after each blog post. For me, it's exciting knowing that people are looking for the content that I am writing about. Using Google Analytics, track where visitors are coming from. These are broken down into 3 categories:
Direct Traffic
Referring Sites
Search Engines
[![Traffic Sources Google Analytics](http://res.cloudinary.com/dywrkkviu/image/upload/v1503429641/traffic_sources_google_ynrvs6.png "Traffic Sources Google Analytics")](http://res.cloudinary.com/dywrkkviu/image/upload/v1503429641/traffic_sources_google_ynrvs6.png)

** Search Engines: **How many people are searching and finding your blog posts organically? This is a simple concept and probably the most powerful, a great blog post is the best marketing a business can have.

**Referring Sites:**

Are your blog posts being linked to from other websites? Referring establishes "credibility" and enables your website to rank well, think of it like word-of-mouth traffic, only online. Social Media is included in this metric, make sure you track which channel is more influential. For social media sites that aren't working well, considering changing your message, or work on building a solid base of fans/followers first.

**Direct Traffic:**

How many people are visiting your website directly. This can be used to measure print, radio, or anywhere where your website address is mentioned.
Step 7: Be Patient
In my experience, patience is key when blogging. Don't get frustrated, success never happens overnight. Make sure you view inbound marketing as an investment, in time you will see results. Once again, make sure you love the topics that you blog about, this should be FUN!