How I used technology to find (and close) an apartment rental in Boston
I just graduated and moved from Maine to Boston in June. I'm currently living in a sublease with my wife until the end of the Summer….and there's been a nagging pressure to find an apartment. It's annoying, and I've spent countless hours searching for a place that we could inhabit for the next couple years.
The Boston rental market is insane. It's expensive, and there's sky-high demand. My wife and I are relatively picky people (especially considering we don't plan on moving from apartment to apartment), and quickly realized that the nice apartments won't last.
Here was our criteria:
No-realtor fee

Rent directly from the landlord
Priced between $1400-$1600 for a 1 bedroom
Somerville area (anywhere within 1 mile of the Red Line -> I work near South Station)
On-street parking
wood floors & high ceilings (wife's request)
Avoid the September 1st madness
(Yes, that list is quite insane)
We both realized a simple truth – we need to have something that differentiates us from the scores of other people searching. Here's what we had going for us:
Being married is huge – landlords don't want crazy parties.

?
I work at a tech company, so I'm always testing new products….perhaps there's some tech out there that can aid this crazy apartment hunt?
Use IFTT to receive new Craigslist postings
Iftt is pretty awesome, and simple to use. You can create a Craigslist recipe and receive new posting alerts when someone lists an apartment (and you can respond quickly). The awesome part about this is that you can create advanced searches in Craigslist and be very selective about which emails are sent. The only downside to this approach is that you will often see duplicate postings. I didn't care – I was saving tons of time.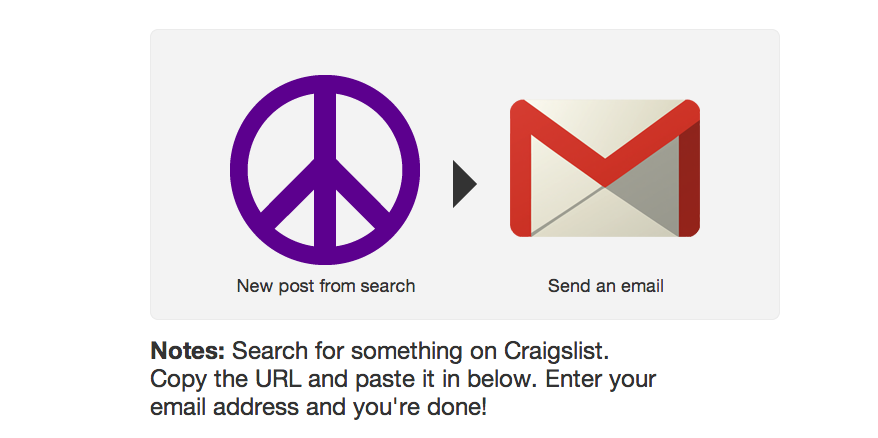 IFTT is a massive time saver.
Sending the Email
The key when sending the email is to differentiate yourself from everyone else. It's not easy, but it can be done. Below are a few methods I used:
Create a custom subject line
Be proactive about setting up a time to see the place ("I am available on Thursday after 6pm etc..")
Attach a photo of yourself to the email – this may seem creepy, but landlords want to know they are emailing a REAL person (my future landlord said this was "a great idea")
I sent a link to my website – they can stalk me all they want.
Use Yesware to track Email Opens
Yesware (a Boston tech co.) may be for professional sales people, but I'm trying to sell myself to a landlord, and I need to know if they are actually reading my email. That's why I use Yesware to track who opens my email, and who doesn't.
If they aren't reading my email, it's most likely because the landlord is being bombarded with requests (or my subject line is weak.)
If they are reading my email and are not responding, it means my email body needs work.
This isn't rocket science!
The Apartment Tour
This next part doesn't have any cool tech, but I hope to pass on a little common sense. Here are a few rules:
Show up 5 minutes early (the more 1-on-1 time you have with the landlord, the better. Be memorable…in a good way) 

Remember the landlord's name
Don't criticize – I was AMAZED at how many people were pointing out everything they thought was wrong with the apartment. DON'T DO THIS!
Show interest
Highlight your advantage – in our situation we highlighted that we were married and wouldn't throw enormous parties.
Be prepared – in the 10 minutes we were in this apartment, there were 6 other prospective tenants that showed up. The landlord was showing the apartment for 3 days = tons of competition!
Follow up after visiting
* (Side note: if you think you will mess this up – practice by attending another showing for a different apartment)*
The Rental Application
Many other applicants at the tour were filling out applications on the spot – this seemed like a great idea until I realized I didn't have the name of my previous landlord. I started filling out the application and screwed up fields (you know, when the rows are really close to one another). My wife and I decided that the best option would be to leave and fill it out at home. Best idea ever.
Use HelloSign to Fill out the Rental Application
How many times have you read applications where you weren't able to distinguish handwriting? Imagine doing this for dozens of applications. This is the life of a landlord. Make their life easier, and fill out the application with Hellosign – it's legible and professional…plus you have a record of it!
Wrapping it up
My wife and I are super excited to live in Somerville – hopefully this post sparks ideas on how you can use technology + differentiation to find a great place to live in Boston. Two final notes – if you are interested in learning about how I negotiated rent in Boston (on my Summer sublease saving $150/mo, let me know by signing up). Lastly, I would love to hear your feedback on Twitter.