Growth/Marketing Interview Tips: My Learnings
Over the last few weeks I finished up my time at YesGraph, and have been exploring other opportunities and doing some contract work in my free time.
I've had the opportunity to connect with several companies here in Boston and SF, and the demand for marketers who work on driving growth is very high. This should serve as a no-brainer (as every startup is looking for exponential growth), but I was surprised and happy that companies are placing a high priority on this skill-set/mindset.
I'm compiling this post because there's many articles about specific growth "hacks", but very little information about what it's like to get hired as one of these growth/marketing people. I'll try to explain my learnings along the way and provide practical insight on how to navigate this process.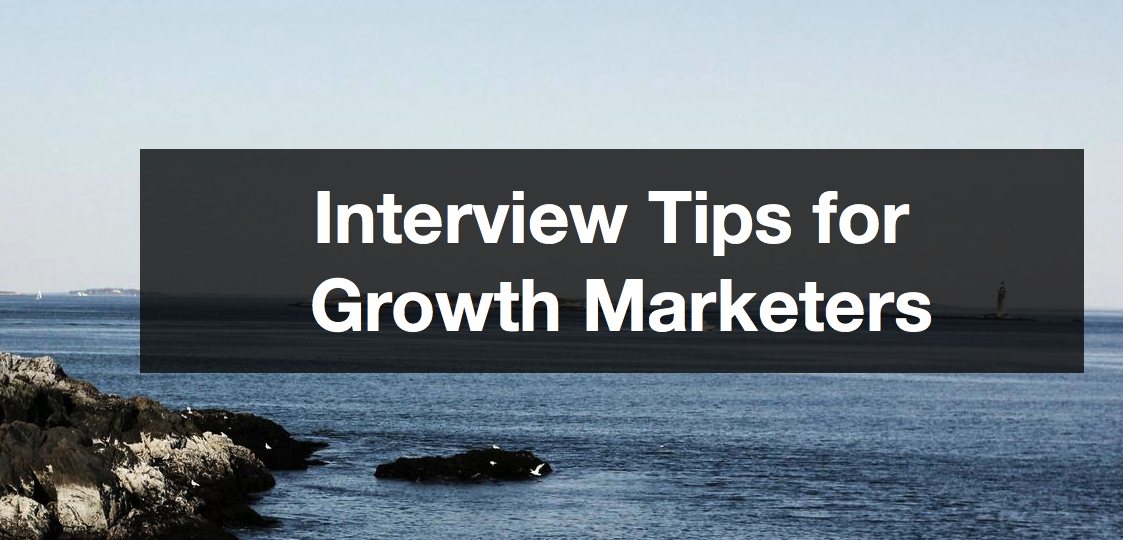 Actively apply or wait?
Similar to marketing, hiring is very much a numbers game, yet certain channels are higher quality than others.The companies that I connected with was segmented into three major channels:
Inbound – people that find me via Twitter, blog, LinkedIn, meetups
Outbound – actively applying to companies who are seeking to fill a position
Referrals – personal friends/networks that know of companies looking to hire (typically no job posting)
At YesGraph I learned a ton about how hiring works, so I decided to run an experiment. I actively applied to 3 companies, and then reached out to friends/mentors to see if they knew of any opportunities that I should look into. I also posted my employment status to followers on Twitter/LinkedIn.
At this point in time, my primary goal was learning more about the company, and seeing if there was a mutual fit.
Here's how the top of the funnel looked:
Inbound – 4 opportunities
Outbound – 3 opportunities
Referrals – 3 opportunities
Learnings:
The companies that I applied to are well known in the tech space, yet I was disappointed by their lack of process.  I blame this largely on the channel being low quality, and I am "just another applicant" in these scenarios.
There also was a major difference in the attitude of the company; for inbound and referrals the companies were very interested in meeting, but for outbound channels, they seemed very passive. Put simply, actively applying to jobs is a low quality channel.
On the other hand, inbound interest was the best channel. These people were excited to talk, and every company I met I could see myself working for.
What does growth mean to you?
There's a bit of buzz around driving growth, so the first thing I would do is seek to understand what "growth" actually means to the company. I think it's easy to get caught up in hype, so my focus was to fully understand what needle they were trying to move. I might be able to help, I might not.
I measure opportunities based on potential impact. My goal in every job is to deliver more value than I take.
Writing Code
I personally believe a marketer is most effective when they have a solid understanding of code. This doesn't mean you need to be a programmer, but instead, you should be able to diagnose issues with metrics, and not look stupid when talking with the engineering team. important
I tried to make it very clear that while I understand more programming than most marketers, that should NOT be the reason why they hire me. I view writing code as the vehicle to delivering business value, and if you can write it yourself as a marketer, you make this happen faster without external dependencies.
I know many marketers who build websites with Weebly and are much more effective than a marketer who can hack. It's because they understand what really matters….and it's not writing functions. It's making the company $$. As a marketer, make that your goal too.
Specialization
As much as I love working on a variety of marketing tasks, it's also important to understand what you're good at (and where you need to improve.) It's okay to be upfront and tell a company that you specialize on one aspect of the funnel. Just be honest, if the company likes you, great! If they aren't interested, you likely saved yourself a headache down the road. Don't over-promise and under-deliver.
Timing
Timing is key. I met with a local startup here in Boston, and they are doing some great things, but it was apparent that the timing wasn't right. They still had some product work they needed to do, and driving growth wasn't the most important thing they needed to work on. As a young startup, focus is critical. If a company isn't ready to use your skills, don't try to force it. Once again, you will save yourself a headache in the future.
Less Magic, more Process
Over the course of the interview process, many people asked about specific tactics that I've done to help a company grow. I'm happy to share examples, but I focusing on tactics can be misleading. For example, let's say I increased conversions by 300%, and the sample size was 10 visitors. That's useless. Instead focus on process, and how you come to specific tactics.
Last example: I'd rather hear an Airbnb employee talk about how they figured out that Craigslist was a great channel for cross-posting instead of exact implementation details.
Understand your Worth
As a marketer, you are constantly dealing with metrics. As a result, you should be able to track how much value you are delivering, making it very easy to prove your worth. For example, If I implement an A/B test that improves the bottom line by $20k, that should be a big deal to my boss. Growing a company is a team sport, but if you move the needle in a big way, don't be scared to ask for what you're worth…just be reasonable.
This might be controversial, but what's the difference between you and someone in sales? You just made the company $20k. A top sales rep is compensated according to the deals that they close. You are a sales rep on steroids. Take a look at Patrick Mackenzie's talk on this….he gets it!
Compensation
What about compensation? I'm not going to disclose exact numbers, but I found companies are looking to pay an engineering-level salary for someone with these skills. I think that's quite reasonable, but always measure in terms of value you bring to the company. That's the determining factor.
I found startups to pay lower than market rate as cash is tight, but they offered equity. I personally view equity like lottery tickets, so it doesn't sway me very much.
Tip: Don't ever mention a specific salary compensation level first. If a company is looking to hire someone, they have already established this beforehand.
What matters most to you?
Alone same vein as compensation, you must make sure to figure out what matters most to you. For me, this was my criteria:
Interesting challenges
The team
Flexibility/opportunity to move fast
Work/life balance
Post product-market fit
Compensation
Biggest Learning: Don't discount BigCo's
I enjoy working in a startup environment because everyone's moving fast & there's flexibility, but that doesn't mean big companies can't do the same. At first I was not interested working at a larger organization, but many of these companies have spin-off projects that they are trying to grow in-house. Better yet, they have more stability than most startups.
For me, a big deciding factor is whether these side projects have buy-in from senior management. If the CEO is behind the project you are working on, that's a positive sign. If he/she doesn't care, you may want to look elsewhere.
With that being said, I'm joining Safari Books Online, where I'll be working on Safari Flow. It's a cool product with tremendous upside, and I love reading, so it's going to be a fun adventure!