The Website in a Weekend Online Course
Website in a Weekend Online Course
In today's day and age, it's increasingly important that you have your own website. Whether you are a recent college graduate looking for a job, or looking to start your own small business to make income on the side, an online presence is crucial.
It's become easy to build your own website in a matter of hours. If you master a simple process, you can create a website for yourself (and others) with ease.
The Problem
There are two major issues out there – I've been building websites for 5 years and I see these problems on a daily basis. These are common misconceptions that I must address before we move on:
You need technical skills to build a website (like HTML and CSS).
Your website must be beautiful, so you should hire someone to build it!
No Coding Experience? No Problem
Technology has progressed….there's no need to write code. I promise.
In fact, in this course you will not write a single line of code. Not one.
Half the Battle is Showing up
Design is not the problem. Showing up is.
If you aren't online, you're missing out on an opportunity to build your brand and showcase your talents.
What's better? A website that looks decent? Or no website at all?
Let's look at the Drudge Report, a top 100 site in the United States.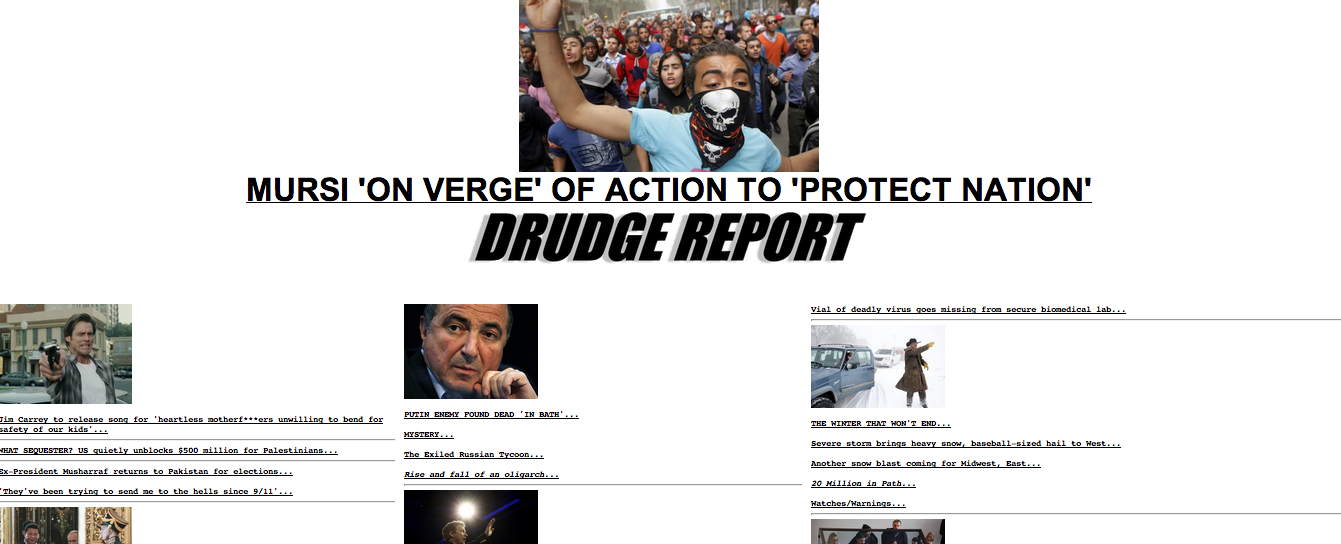 Would I classify this site as beautiful? No.
Is this website effective? Yes.
Would you rather have an effective website that performs well? Or a beautiful website that is not effective?
(if you said a beautiful website that is not effective, you should stop reading and go back to browsing Facebook)
What Web Agencies don't want you to know
Here's a simple truth – web agencies don't want you to know that you can create a great website without consulting a professional. A typical web agency won't even talk to you unless you have a budget of over $5,000 dollars. That's expensive!
Especially if you are just starting out – you can't afford to pay more than a few hundred dollars.
Updates:
A healthy website is one that's frequently updated. Would you rather do this yourself? Or pay someone $100/hr for work you could do yourself? I'll let you decide.
Easy as Email?
Your website should be easy to access and update – like email. If you want to start a blog, you must be able to easily add and edit posts. If your website is a nightmare to update, then you won't want to use it!
I will teach you a fool-proof way to edit your website, saving you time and hundreds of dollars per year.
Keep your Content
Do you currently have a website? Let me guess…you're using a "free" service.
There's problems with websites like WordPress.com and Tumblr. These popular sites are free, but you don't own the content you create! If your site looks anything like the following, you are missing out.
yoursitename.wordpress.com

yoursitename.tumblr.com
About the Class
In this online class, I will teach you how to get your website setup and functioning correctly. Below is how the class will be structured:
Picking the right domain and hosting plan
Installing software for your website
Configuring your website to be functional
Choosing a design for your site
BONUS: Integrating social media
BONUS: Adding a contact form
Who this class is for:
This class is geared towards people who are looking to establish a web presence online, **No prior experience required. **
Put simply, this class is for people who want to work with me, but can't afford to pay for a full website design.
Who this is class is not for:
This is an online class. The course will consist of reading materials and video tutorials.
Cost
This class costs $449 dollars, a fraction of the cost you would spend on a website designer. This class is geared to save you time and money, so I focus on the essentials, not the pointless fluff. To register, simply fill out the form below, and after payment is made, I will be in contact with you to get started.